One of IFV's flagship projects, which today is characterized as its main line of action, is the Research Project on Rare and Endangered Species of Southern Bahia.The research was approved in 2020 and carried out in cooperation with the Federal University of Southern Bahia and the New York Botanical Garden. With funding from the Franklinia Foundation, the project consolidates the first phase of the creation of the Serra Grande Botanical Garden, positioning it as an international center for the study of Atlantic Forest plants. In 2019, during the preparation of the project, 38 species were listed and constitute the focus of the research, with the aim of reproducing them in the nursery.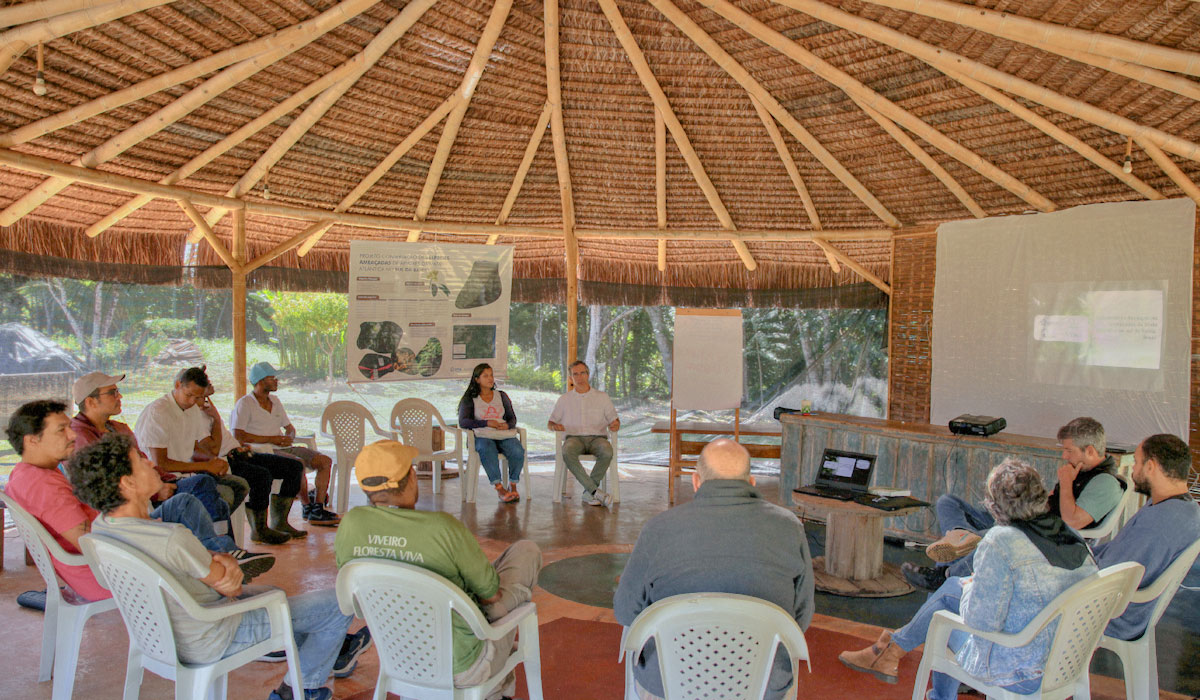 The main activities have been carried out in Ilhéus, Itacaré, Maraú, Una e Uruçuca. These municipalities have forest areas where many rare and threatened trees are found, offering high chances of carrying out in-situ conservation (in the locality of origin of these species) in protected public areas and in private forests.
The efforts of our technical team were first focused on locating the populations of trees in the field, then mother trees were mapped for monitoring. At the right time, the fruit is collected and the seeds are processed for seedling production. When the seedlings have reached the recommended size, the team donates them to conservation reforestation projects.
The final phase of the project includes educational workshops with landowners, farmers, natural resource professionals, local nurseries and those knowledgeable about in situ conservation of globally threatened tree species. The purpose of these workshops is to expand the conservation of the forest remnants and to enable the collection of native tree seeds.
The marking of 416 matrices for future collections of seeds/seedlings monitored from August 2020 to February 2021.

The distribution of matrices of 26 species in the 5 target municipalities.

The production of about fifteen thousand seedlings (14,926) of 12 species.

The signing of a total of 35 contracts for the donation of seedlings to rural landowners interested in forest restoration and conservation in the 5 municipalities.

The donation of 13,400 seedlings of 12 species in 5 municipalities.

The transplant of 410 seedlings of the rarest tree on our list: Andreadoxa flava, to the nursery.

The production and dissemination of three educational videos, available on the Instituto Floresta Viva YouTube channel.

The dissemination of the project's communication material (videos) with more than 13,000 views.

The production and dissemination of volume 1, of the educational booklet on the target species of the project.